This month's guest blogger is Sarah from The YA Book Traveler . She's amazing! I'm so happy to have her in my blog this month! Enjoy her post!
---
Hi everyone! I'm so excited to be on Melanie's blog! She's such an amazing person and I was thrilled to be paired with her for Guest of the Month Club hosted by Emily at emilyreadseverything.com
This month's topic is "Top 5 Books I Want To Read In 2016". I've been super fortunate in being able to read many of my most anticipated 2016 books already but there are still MANY more I can't wait to read.
1. My Lady Jane by Cynthia Hand, Jodi Meadows and Brodi Ashton – From the moment I heard about this book I knew I needed to read it. It's a humorous take on the historical story of Lady Jane Grey. It's pitched as having similar humor stying as Princess Bride. I am so ready for a historical fantasy with HUMOR!

2. The King Slayer (The Witch Hunter #2) by Virginia Boecker – The Witch Hunter was one of my favorite books last year for 4 reasons: Magic, Humor, Romance & Great Characters (including secondary characters). I found it to be such an unexpectedly fun and swoony book and I can't wait for The King Slayer!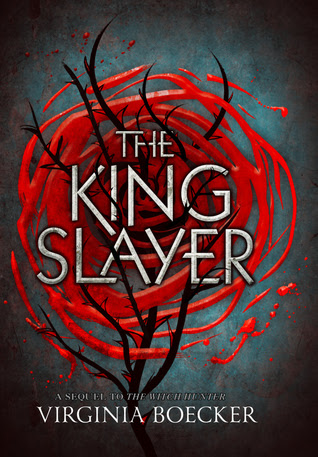 3. Gemina by Jay Kristoff and Amie Kaufman – I literally bought 10 copies of Illuminae last year. It blew my mind and it's impossible to compare to any other book. That being said, I NEEEEED Gemina. If you  haven't read Illuminae, do it!
4. Crooked Kingdom by Leigh Bardugo – Six of Crows was such a fun book full of very unique and compelling characters. I'm such a character junkie and I need great characters to connect to any book. Crooked Kingdom is the second and final book of this duology and I know it'll be one heck of a ride.
5. Untitled (Throne of Glass 5) by Sarah J. Maas – Wow…Queen of Shadows was AMAZING. There were so many perfect scenes and I'm interested to see what happens in the next installment. Hopefully title and cover will be released ANY TIME!
2016 is an amazing year for books! What are you looking forward to?
Thanks for having me Melanie!