When I finished reading this book I had no idea how to start my review. My thoughts flowed like this: "Wow! This book is so good!" "I can't believe how good it is." "WOW THAT ENDING" "Um. I feel like I need to get over things in my life and this book just made me realized it."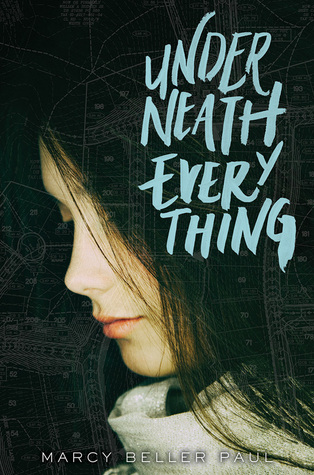 Release date: October 27, 2015
             Underneath Everything is the debut novel of Marcy Beller Paul, and I know this is her first novel but, I already want to read more from this author. This book surprised me in so many ways. When I started reading it I knew it was the right book for me, my type of book. Right from the start I noticed that characters are messed up and I'm all for that.
I fell in love with Marcy Beller Paul's writing, it is the writing style that inspires me to keep writing. The way she described things were so real, perfect and haunting, all at the same time, that I couldn't stop reading. She took risks on writing about sexuality and friendship in ways I've never read before. I was amazed by these characters and I learned to understand and love them. The characters are flawed and each of them is trying to find their own self. You can learn so much from each of them.
This book involves some girl on girl kissing and girl on girl love relationship, but isn't all about that. (There are some hot boy on girl scenes too.)  This book is classified as an LGTB book but it doesn't goes around the "taboo" of being gay, is more than that. Also, I wouldn't classify it as a romance book, is more about finding yourself and getting rid of the things that holds us down in our life. Of the people that we use to bring us down when the only guilty is staring us in the mirror. At some point I thought the book was going down, and I got a bit scared, but it was al part of the story telling. And the ending took me by surprise and it was GREAT. I had to take a moment to process everything and leave the shock of the amazingness of this story.
The author takes the story back and forth without confusing the readers, mixing the present with the past. It had me holding my breath almost all the time, surprised by every little twist that came on the way. I had no idea what was going to happen next.
If you like a haunting read with flawed characters, friendship, love, a spice of sexy and a deep meaning, I totally recommend you this book.
*Thank you Edelweiss for allowing me this chance to read this DRC."