I love misfit characters who don't belong anywhere but with each other.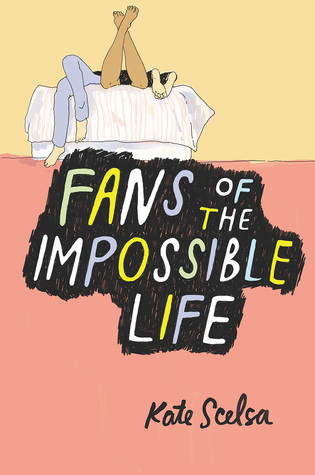 Release date: September 8th, 2015
I wasn't expecting to like this book as much as I did. I read it expecting a romantic book about a boy falling in love with a boy and girl. This is not the kind book. Fans is about about mental illness, love, self-discovery and friendship. It's a story about broken people trying to keep it together holding on to each other. Things get wild, dirty, lovely, messy; everything I love in a story. If you like very twisted relationships this book is a must read.
FANS is written in 3 different POV: first person, second and third. Yes, it is possible! Kate has the talent to write 3 POVs perfectly. This was something that hooked me up and I couldn't stop reading.
This book talks about depression, low self-esteem, drugs, alcohol and many other themes that are very important to touch in today's society. Each character has their our story and together they create a time bomb that will leave you wanting more. Mira, Jeremy and Sebby are excellent characters. They are passionate teenagers trying to discover their place in the world.  The chemistry between them was great and it was another great fact about the book and that made me love it more.
Secondary characters were amazing and they all make a function in the story. My favorite was Rose, she was the character I wish the author write a spin-off novella about her. She's the best lesbian character I ever read. Every time she showed up I was laughing. She gives a magical touch to the story. I loved her.
I love when a book challenge me to be a better writer and to dig in more in creating characters. With this book I learned to take risks. A book is not about what the audience need, it is about what the story needs.
Get ready for THE FEELS.
If you like Perks Of Being A Wallflower you are going to love Fans Of The Impossible Life.
**Thank you Edelweiss and Harper Collins for giving me the DRC on this book in exchange for an honest review.**