I never expected to love this series this much.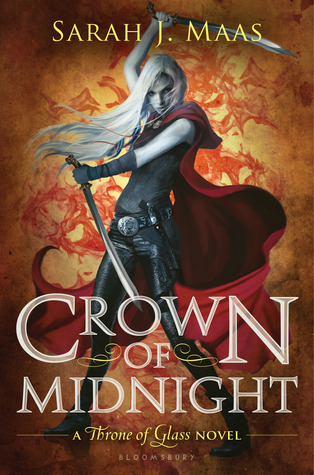 Crown Of Midnight is the second book in the Throne Of Glass series. I loved the first book, and as much as I tried to read something before this one, I couldn't wait. And WOW, this one was such a ride. I never thought I was going to love a series this much again.
In this book I fell in love more with the world building, I am sure Maas is a fan of The Lord Of The Rings because the world in this book reminds me a little of Middle-Earth. I have to admit that this is my favorite book world after Middle-Earth and Narnia, and I can't wait to know other cities and countries in it.
The characters! I love Celaena. I love Chaol. And this book is the CHAOLAENA book. Feelings are much stronger in this book and something happens that might break everything, but I know it doesn't truly.
The first half is perfection. The second half of the book, is heartbreaking but still perfect. In this book we go deeper into Celaena's past and a big revelation happens by the end. I must admit that Celaena goes a bit dark and I was very scared of the assassin inside her. Celaena is unstoppable. If you mess up with her, you are done forever.
Overall, this book is an amazing sequel for an amazing series. I have no way to put my feels into words because this book is everything. This review is very lame for this amazing book. I haven't slept because of it. It is amazing. And this series is my new favorite and I am obsessed.
AND CHAOL IS MY BABY NO MATTER WHAT!