Extraordinary Means is more than a story about teenagers with tuberculosis. It's about second chances.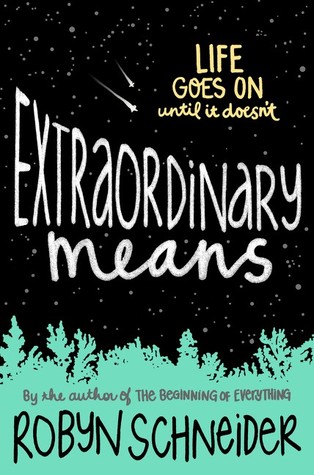 When I read Robyn's first book The Beginning Of Everything, I was fascinated with her. Extraordinary Means is her second novel. Lane had his future planned. After being diagnosed with tuberculosis and sent to a sanatorium with other teenagers suffering the same disease, his plans change. There he meets Sadie, she's fun, beautiful, and fearless. They knew each other from years ago, but now in the sanatorium they get a second chance of meeting again and fall in love.
This is a love story. Happy or sad ending? You have to read it to know.
I enjoyed Extraordinary Means but not as much as I was hoping to. For me the story is original. The purpose of this story is more than about two sick teenagers, and it's not about hope. It's about second chances and making the most of the time you are given. This story involves more than Lane and Sadie, they have a group of friends who make the story more entertaining. I enjoyed their little adventures and conversations. But I couldn't connect with the characters. I tried hard to connect with them but that never happened. I enjoyed them but I will probably forget them soon.
The ending, for me, was a bit forced. Is trying to avoid cliché but failing. I would have preferred that what happens would had happen naturally. I didn't felt sad or angry or anything but disappointed.
Overall, I enjoyed this book. I will keep reading Robyn Schneider's books because she has a way of writing that I enjoy a lot.