If you over think things,this book is for you.
If you like poetry, this book is for you.
If you want to be brave, this book is for you.
And I mean every last word.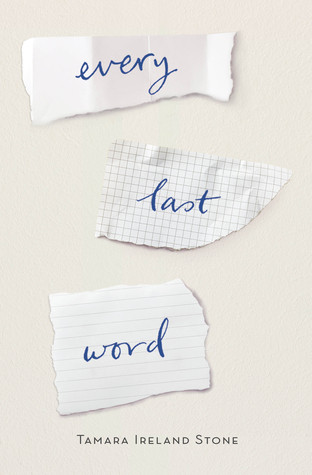 Release Date: June 16, 2015
I can't be grateful enough for this book. I loved how much I could relate to it, how the story developed, the twists and everything else in between. Sam is a girl with Pure-O OCD and anxiety. One day a girl comes to her and takes her to a secret club called Poet's Corners. There she meets new friends, and she's challenged to change and to grow. In the Poet's Corner she begins to feel normal, she begins to find herself.
This is the first book I read of Tamara and I have nothing bad to say about it. This story touched my heart and I learned so much from it. Every Last Word is the kind of book that changes you and makes you grow. The characters are amazing and they will surprise you. This story is Sam's journey to get better and rediscover herself. It has every detail I look for in a book, and I won't say because I will give out spoilers, but if you know me you'll kind of know.
Personal Note:
Not everyday we read a book that, besides of entertaining us, can teach us something. This book is both. I started reading this book without knowing what it was about. When I started reading it I found it is about a girl with OCD (Pure-O) and anxiety attacks. I began to relate to her since. I am not diagnosed but with the time I have learned I suffer anxiety problems and possibly of Pure-O. This book helped me to be aware that PureOCD is real and now I can understand it better. I know I've never been brave enough look for medical help but I have found ways to deal with it in the meantime. I always had it and not saying it and not knowing that this over thinking wasn't normal has kept me quiet for many years. Now I am accepting it and trying to deal with it in my own way. Some days it's easy, I let my mind go inside a book to shut of my thoughts, and sometimes it gets bad and I can't find ways to shut of my head and it makes me feel miserable, because my head won't shut up. Tamara Ireland Stone through through Sam show us the real struggles of a person suffering this and I could relate a lot to the character. So if you are or know a person who suffer this, this book is for you. This book will make you feel better and you will learn things. You are not alone. This disease is not easy, since is not visible is hard to explain and make others to believe you or understand who our minds work. For me this book served me as a therapy and I hope it does for you.
I want to raise awareness of this disease because is silence and can be very dangerous. Pure-O OCD is exhausting, you can't get away from your mind and thoughts and it's not easy to tell people about it because is not a visible disease. If you are a teen or an adult and you have or think you have OCD tell others about it, find help.
This book helped me to understand myself better and to understand others who are possibly suffering from this.
For more info: Beyond OCD
** Thanks to Hyperion and NetGalley for providing the ARC in exchange for an honest review**