Every day a different body. Every day a different life. Every day in love with the same girl.
There's never any warning about where it will be or who it will be. A has made peace with that, even established guidelines by which to live: Never get too attached. Avoid being noticed. Do not interfere.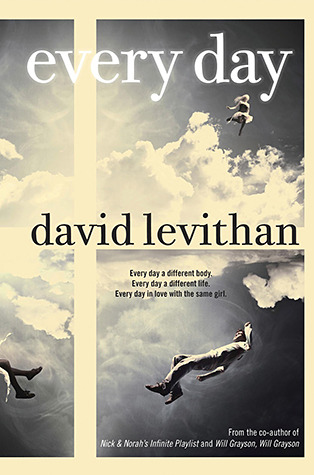 Let's be real. I fell in love with this book before buying it. When I knew what it was about I knew I was going to love it. And sometimes happen that you create expectations for a book and then they become a disappointment, Every Day was not my case. It was everything I expected it to be. I was not disappointed a bit. I loved it so much. Everything I thought "What if?..", happened and that made me so glad. Some people might not like the ending, or how things wasn't resolved but I think it is real for the story. David Levithan is amazing. I love him more now. He's becoming my author hero.
This book is an easy read, it's simple and straight to the point. I wanted more and more of this story but this is all the writer can give and with it he gave us a lot. I loved the characters, Rhiannon is amazing and A too. Their chemistry in all the bodies he was in. was excellent. I love who you can make this story yours and make A a male or female. I imagined him originally as a boy, because I like boys and this is like I wanted to imagine him. This book is a love story, not your every day love story but sure is one you will never forget.
The ending I thought it is beautiful. It is sad but at the same time is right.
I'll never forget this story. This is the kind of book that makes you grow a little as a person.
I can't wait to read Another Day, coming on August 1st. It's Rhiannon's POV of the story and I can't wait to know more about her.
"When first love ends, most people eventually know there will be more to come. They are not through with love. Love is not through with them. It will never be the same as the first, but it will be better in different ways."
― David Levithan, Every Day