Wow wow wow. So many surprises, unexpected turns and a beautiful ending. This book is a painting, a sketch, a sculpture turned into a book. I've never read anything like this before, and I wasn't ready for turns in the story. I dove into it, swam around Jandy Nelson's beautiful prose and let the story got inside me and drown down in it. The ending felt like I had been dropped from the YA literature heaven.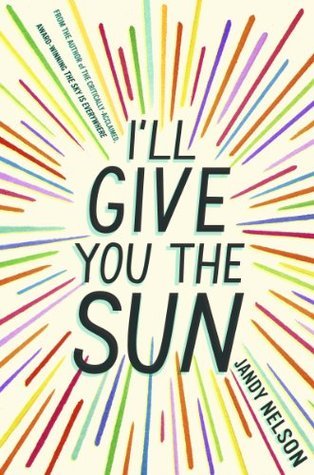 I read this book first because one of my favorite authors, Tahereh Mafi, was raving about it so I took her recommendation.
It's a heart breaking beautiful story about a sister and brother and their family secrets.
This book it's a message of hope. It's that kind of book that shakes your world and remakes it. There is tragic, heartbreaks, swoony moments and everything you look for in a book that is so good it will make you cry. It's a very inspiring book.
The story is told from the twins POV, Noah, the boy, tells the story from when they where 13 years old. Jude, the girl, tells the story when they are 16 years old, after a tragic event happened in their life that turn the twins apart. The misunderstandings and the truths they kept inside, that they were never able to get out, is what makes this story surprising and intriguing. Jude was my favorite speaker. Her courage of going for what she wants was very inspiring for me. Once she was clear about what she wanted she went up for it no mattered what. Noah, wow. He blew me away too. Both of them are very complex and what happens with them will surprise you. Besides Jude, every other character in this book are also extraordinary. Each carry their own secrets and their own burdens.
Each twin has a love story of their own, each complicated and beautiful. I will not share the details, just I'll say that Jude's, wait no, Noah's…no Jude's …they are both amazing love stories. I'll just say that Jude's better because it's a girl and a boy and I can relate more. But Noah's story is amazing too. *tears*
I wish there was another book about their parents because they play a very important role in this story.
I say this book is for everyone, young adult or not. I am sure there is something for everyone in this book.