This is the kind of book I want to get inside it and live in it. The book I wish it could become a person and marry it. I want freaking Silas in real life.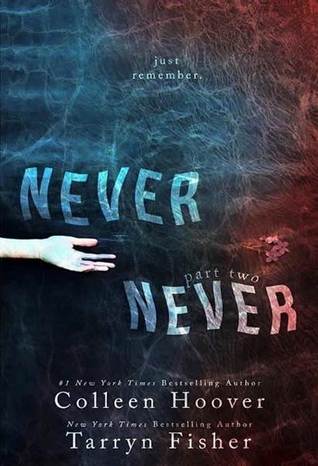 If you are reading this is because you read Never Never Part 1. If you haven't, save your time and read my Never Never review.
If you are reading this review is, because you are scared of reading Never Never Part 2. I don't blame you, I was scared too. That ending was such a painful one.
That being said, let's begin.
Of course I read this book right when it download in my Kindle and finished a few hours later.
I loved it so much! I was prepared to suffer in a bad way. My theories were so wrong. This book brings out another side of the characters that for me was more real and faithful to who they were before their memories got messed up. This book is more intense, it's face paced, you won't be able to put it down because you want to know what's happening and what's going to happen. It's amazing. Silas stole my heart once again and I can say I love him even more. I don't want to give out spoilers here, but this book contains more about their past and you'll understand more the characters and their background. And you'll fall in love with Silas if you haven't got into him at first.
My favorite thing about this novella series are the characters, Silas and Charlie. We get a lot of Silas, he is my favorite and I couldn't stop reading about him. I missed Charlie, she doesn't get too much participation in this one and I wish we could have gotten more of her. This book is more romantic, prepare for swoons. I say, they are not contaminated with exterior forces like in the first book and that makes their feelings more real and open.
This book is more about understanding their past and what leads their families to hate each other. Its a lot of explaining.
You will understand why the Brian/Charlie and Avril/Silas happened.
If you loved Silas letter to Charlie in the first book, get ready for more.
We get to understand why Charlie turned into a "horrible person" like she thinks of herself in the first book.
Never Never does have a meaning.
There are still questions unanswered.
The ending is a cliffhanger of course, but is one that I can live with until Part 3. It's less painful than the first one, though I had a small shock it turned out fine. I can live in peace with that ending. Trust me.
"I'll be here. I told you before I'll never stop loving you. I'll never forget what we have."