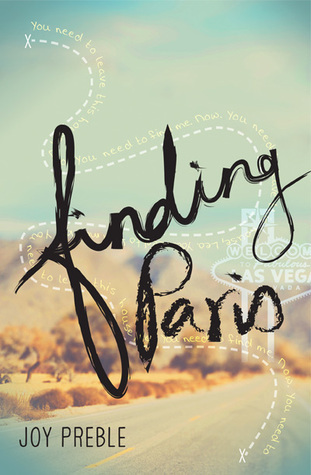 Release date: April 21,2015
I know you are going to fall for this book no matter how this review goes. I don't blame you. This book wears one of the most beautiful book covers of this year, no doubt. And if you take off the dust jacket, you'll love it more. I admit that one of the reason I wanted to read this book was because of the book cover, yeah I'm that kind of person sometimes. Enough of the book cover praise, let's talk about the content.
From Goodreads:
---
Sisters Leo and Paris Hollings have only ever had each other to rely on. They can't trust their mother, who hops from city to city and from guy to guy, or their gambler stepfather, who's moved them all to Las Vegas. It's just the two of them: Paris, who's always been the dreamer, and Leo, who has a real future in mind–going to Stanford, becoming a doctor, falling in love. But Leo isn't going anywhere right now, except driving around Vegas all night with her sister.
Until Paris ditches Leo at the Heartbreak Hotel Diner, where moments before they had been talking with physics student Max Sullivan. Outside, Leo finds a cryptic note from Paris–a clue. Is it some kind of game? Where is Paris, and why has she disappeared? When Leo reluctantly accepts Max's offer of help, the two find themselves following a string of clues through Vegas and beyond. But the search for the truth is not a straight line. And neither is the path to secrets Leo and Max hold inside.
---
I'm going to do this review very careful because I don't want to give out any spoilers. I was surprised with the ending although other things in the book where predictable. The real theme of the book is revealed at the end and I was very surprised. I never thought that (judging by cover) this book would go on a very dedicated topic that is very current and important now day.
Leo is the protagonist of this story, we go inside her head the whole book and inside her heart. I was annoyed at first by her personality, she seemed like a very unstable girl, insecure, she wanted something then not, that sort of thing. But after you know what happened to her, everything makes sense. Leo is keeping a secret to her family and even to herself, as she doesn't want to admit it or think about it, and when she can finally let it out she is able to forgive and move on. She can acknowledge how great she is and appreciate her value.
This story is set in Las Vegas and California, since I've been in both place, I enjoyed that I could imagine the places as if I was there using my memory. Its was fun to go back to Las Vegas in my head but seeing Leo, Max and Paris there.
I have mixed feelings over this book. I liked it, but I found things that were predictable. And I enjoyed the things that where predictable because then the story would have been too perfect and I don't like that. I don't like when people in books meet by accident and suddenly everything works out and all that. This book might seem to but no.
The love story was great, I loved how Max and Leo with their past and secrets could get along so well.
**An eARC of this title was provided by the publisher via Edelweiss in exchange for an honest review. However, that did not influence this review in any way. All thoughts, quotes, and opinions will be of this version and not of the published edition.**