A coming-of-age story about fate and fixing wrong choices. My Best Everything is a moving story that will take you on a spin about falling in love, finding yourself and following your heart.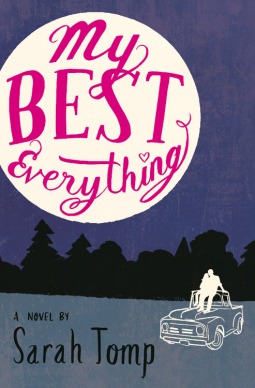 Release date: March 3rd,2015
"You say it was all meant to be. You and me. The way we met. Our secrets in the woods. Even the way it all exploded. It was simply a matter of fate."
In the summer after graduating from high school Lulu's plan is going to college in California, away from her small boring town in Dale, Virginia. After her father lost the money that was supposed to be for her college Lulu find an illegal way to obtain the money back by producing moonshine. With the help of her friends and former moonshine seller, Mason, Lulu's summer turns into the summer that changed her life and the way she will think about her future.
The book is written in second person past. She is retelling the story to Mason, but we don't know what happened to them until the end. We don't know if this is an apology, a love letter or a goodbye. But she begins warning us that she's telling the story again to understand why everything happened as they happened and why she made the choice she made at the end. At some point you feel that everything is going to fall down and crash, several times I had to stop reading because I was sure that something pretty bad was going to happen. I can't tell you if it did or not.
I loved this book specially for the conclusion and ending. While reading it I had no idea where the story was going to go because I had so many theories in my head. Lulu thought her future was all settled and planned, but life gave her a hard time to fix everything in order. Her character is very tough, sure of what she wants, she's a fighter, she doesn't give up. Even when she wanted to do something, her nature didn't let her. She focus on what she wants and goes for it. Lulu's best friend, Roni, also know what she wants in life and in that summer her life and dreams change too. Sometimes we want something, or have an idea of what we want and life propose something new. It's our choice to decide which road to take. To either follow our head or our heart. There's so much to learn from this book.
Mason is the love interest of Lulu and to whom this story is narrated. The chemistry between Mason and Lulu sparks out since the first chapter. I love how she described the first time she saw him, that got me into the book instantly.
I am sure you will find something good out of this reading. It's one of those books that makes you think and reflect about life, fate and meant-to-bes.
"Think about each possibility. Roll it around in your head, let your mind play awhile. See how each one makes you feel."
****ARC provided by the publisher via Edelweiss in exchange for an honest review.Thank you.****