I saw lots of good reviews about this book. I got it but left it in my Kindle for a while. Then my Twitter feed started to fill up with crazy reactions about this book and I decided to stop the world and begin to  read it at 1am. Readers, you have to read this! This one is totally joining my "Favorite Books Ever" list. It's a short book (140 aprox. pages) but it is intense and mind blowing.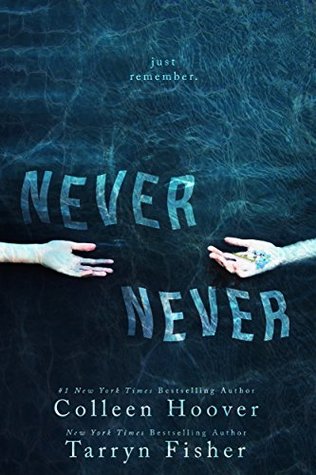 Silas and Charlie suddenly lose their memories while they are in school. They don't know anything about themselves, about their past, or what caused them to lose their memories, so do we. They (and us) just know that they've been in love for 4 years now. Silas is trying to remember. Charlie is trying to forget. As the story develops we begin, at the same time they do, to know and understand how their relationship was doing, some secrets of their past, and things about their present life.
I love this kind of stories, full of mystery where the reader is engaged to the story, thinking and picking up clues about what might be happening. I loved the characters since the beginning, I love how  it's a mature YA story plus, the ending is a "OMG HOWIAMSUPPOUSEDTOLIVENOW?" kind of reaction!
The story is told in 2 POVs. Each chapter corresponding to one character then the other, so on. Colleen Hoover wrote the male (Silas) character's POV and Tarryn Fisher wrote (Charlie) the female's POV.
Silas: He was the POV I enjoyed and loved the most. Silas is romantic, nice, dedicated, but of course he's not saint. After loosing his memories, Silas is the one who wants to remember to mend things that might had happened wrong in their past. He's trying to remember his feelings for Charlie and he's decided to make her love him again. I have to admit that I fell in love with Silas.
Charlie: Though sometimes I hated her but at the same time I understood her. I could relate to her in some personality traits and I could connect with her easily. She's not easy! Charlie doesn't want to remember, but at the same time she wants. She discovers that she was possibly a bad person and that most of the people around her hates her. Charlie is somehow making a new life with her new memories to change who she was.
Both characters are trying to figured caused them to loose their memory and somehow falling in love with each other again. I don't blame Charlie, Silas is hard to hate. This part of the story happens in 48 hours, that's 2 days. AH? Now you want to read it, right?
Well, this is all I can say before I spoil something out.
The ending will leave you begging for Part 2. What happens at the end was one of my "What if…" theory,  not in the same way the authors wrote it because they did it so much better and so much painful. They did an amazing story telling, characters development, and a killer cliffhanger. Is a roller coaster that goes up up up and then when you are in the top waiting to go down, that's it. Is the mother of the cliffhangers. I can't wait for the second part. I really want to know what it's going to happen. This story is wow. Go and read it now!
I read Never Never for the second time. Here is my second review. I can't stop the feels!
2nd reading review:
Yeah. It's official. I am hooked with this book. It's the characters. The way that Silas is trying to fix things, how Charlie wants him but she doesn't, they are obviously broken. But then they are trying to fix their pieces together. Sometimes I could see myself as Charlie, she being bossy and doing things because they meant something, and a lots of other traits she and I have. Silas, he's my new fictional boyfriend. Being in his mind was amazing, he is more expressive and sincere and protective and decided. I can't wait for the Part 2. I have a bad feeling about the ending of this story, but the first book will be forever my favorite one.
I might read it again when I get my paperback copy.
Please share your reactions, comments, questions or anything! I really want to talk about this book so much. I need to calm this book hangover.
Comment or tweet me at @melanielost 😀